It is not a vacation if there is no beach, it would not hurt to take a trip to the beaches of Cantabria, feel the sand on your feet, enjoy with friends or family and take a dip in the cool sea.
Cantabria has some of the best beaches you can enjoy and some of the best waves where you can surf all day long. The beach and the sea alone awaken a high level of happiness in people thanks to the pure air that is breathed here and of course the contact with nature.
If you are a little stressed and want a change of environment you can come to the beaches in Cantabria and breathe good air, sure that when you return home you will be much more cheerful. Also, if you don't like crowds then the beaches of Cantabria are for you, as some of them are not very crowded.
The 5 best beaches in Cantabria
Okay, it should also be noted that Cantabria has a large number of beaches, here we will talk about some of the best and why you should visit them, what they offer, among other interesting facts.
Valdearenas Beach
Among the most beautiful beaches in Cantabria and very close to the capital are several beaches including Valdearenas beach, its name is given because you will only see dunes and golden sand surrounded by rocky terrain.
In addition, the waves here tend to be strong so it is perfect for surfing or sports of this style, however, from here the sunsets are also given with a unique view.
Mataleñas Beach
This is a beach in Santander, the capital city, where beautiful beaches abound, this one in particular is perfect for surfing or also to enjoy the view and relax.
It is probably one of the beaches with the most difficult access and all because descending to it requires you to go down several steps, even so, people make the effort because the beach presents a lot of beauty.
The waters are clear and the sand is golden, you can breathe a lot of peace even being close to the city.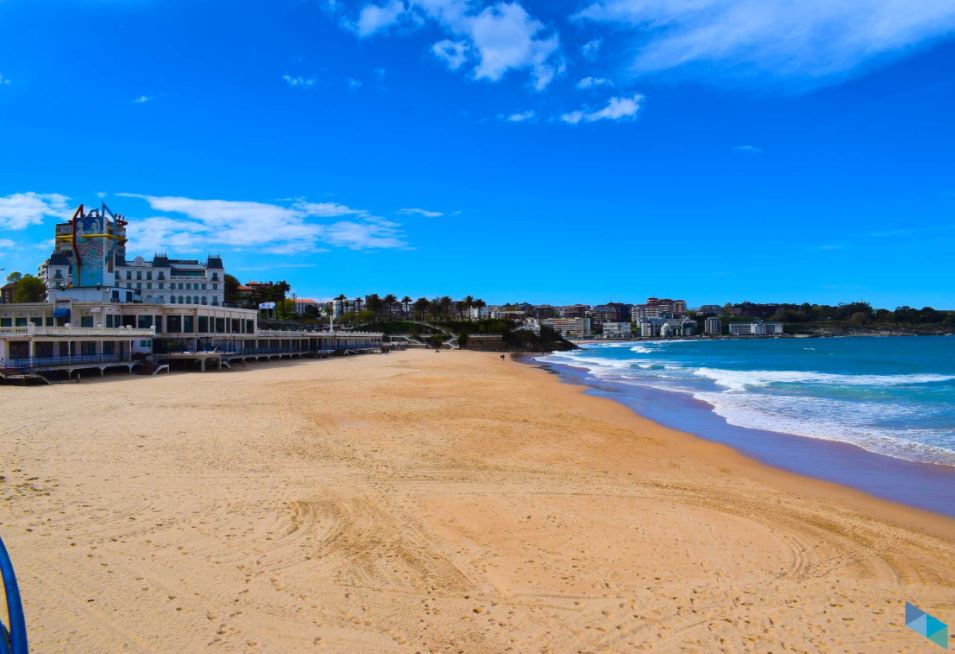 Sardinero Beach
The Sardinero in Santander is quite extensive with a beach of fine sand and quality. The access to this one is much easier than the others since it is located in the urban area of Santander, moreover, this is one of the most famous in all Cantabria.
Here you will also find several services such as umbrellas, hammocks, showers, toilets, among others. If you want to be very comfortable without going far from the city, this is the place.
Santa Justa Beach
Located in Ubiarco which is in the municipality of Santillana del Mar in Cantabria.
The beach is small and the truth is that very few people visit it even in high season, it is surrounded by cliffs along with a small chapel that can be seen in the distance.
Although it is small, it has been equipped with parking and the accesses have been restored, which makes this beach very comfortable.
Berria Beach
The beach of Berria in Santoña allows the union with Argoños, two localities in Cantabria, this means that it is quite extensive with approximately 2 kilometers in which you can enjoy fine golden sand, in addition to the tranquility that this beach offers.
It is adapted so that people with mobility difficulties can access it, it offers several services and its surroundings make it one of the most visited and beautiful beaches in Cantabria.
The services offered are showers, hammock rental, telephones and toilets. It is a semi-urban beach, so it is ideal if you do not want to go too far into the wilderness.
Hostels in Cantabria near the beach
We are in good times, the pandemic is not as strong as before, there are more freedoms and an escape to the beach is fair and necessary.
Cantabria in these seasons is waiting for you to enjoy a good beer, take a dip and feel the sand on your feet, nothing can go wrong sounds like the perfect plan.
There are a lot of lodging options in Cantabria from hotels to rural houses in Cantabria near the beach, however, if you go in large groups or with children we recommend the hostels in Cantabria.
La casa de Gándara hostel is about 20 minutes from the beach in Cantabria and is located in the village of Llanos in Penagos.