The nature park of Cabárceno is one of the most touristic places in all Cantabria, it is a Zoo that you should know yes or yes. The best way to visit this park with calm is to stay in a rural house near Cabárceno and add the park in a list of places to visit, because, although this "zoo" is a worthwhile attraction, there are also other beautiful places you may want to visit such as the Altamira Caves or the beaches of Cantabria. Our hostel in Cabárceno is at your disposal.
What can you expect from the Cabárceno nature park?
This is a very beautiful park which receives up to 600 thousand visitors every year.
If this is your first time visiting this natural reserve of Cabárceno, knowing this information you realize that it is a very important attraction for the area and that of course everyone who is in Cantabria should not miss the opportunity to visit it.
After such a long time of being locked up for pandemic reasons, we always look for natural places with lots of vegetation without crowds and if possible with animals. This is when visiting Cabárceno Park becomes an excellent idea, especially if you go with children.
Now, although it is often mentioned that it is like a zoo, the reality is that this reserve goes much further. In addition to the animals, you can also expect wonderful views.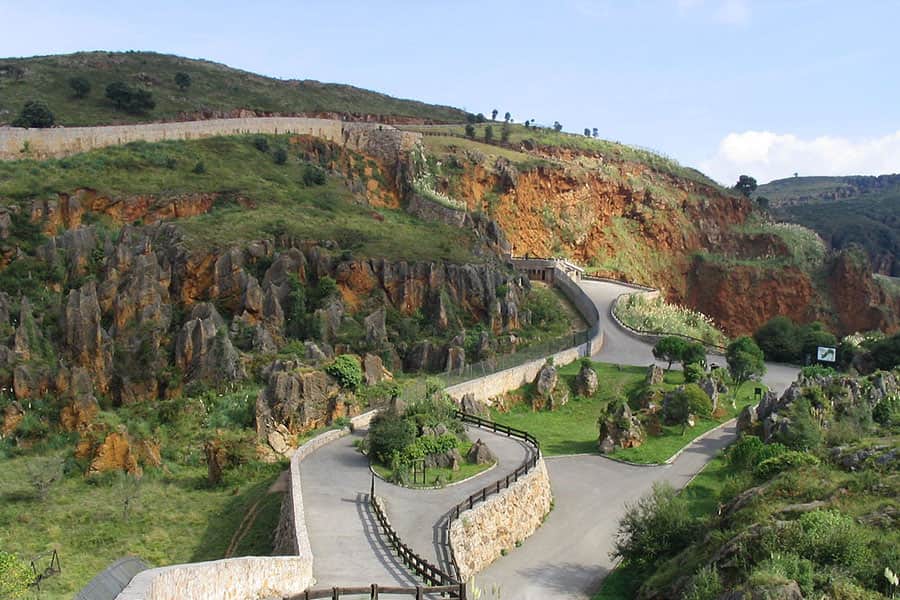 Why stay in a hostel in Cabárceno?
We will give you some reasons why you should stay in a Cabárceno hostel like ours, which is perfect for visiting the park in Cabárceno.
– It is less strict than a hotel: Although it is not as strict, it is still a clean and respectful place, so it also helps you feel at home and you can rest.
– Bathrooms: This is usually a reason why travelers often complain about a hostel, however, among the cottages near Cabárceno our hostel has 1 bathroom for each room or as they also call it "ensuite bathroom", so you will only share a bathroom with those in your room.
– Not so expensive: When we are told that something is cheaper we usually think about the cleanliness, but as we mentioned, it is just as clean as a hotel, at least in our hostel La casa de Gándara you don't have to worry about cleaning.
– It is not only for backpackers: The cottages near Cabárceno are not only for backpackers, but also for couples and families with children, as we mentioned, children love it, especially when the place has green areas where they can have fun.
– It is not mandatory to share a room: If you want a complete room for you and your partner or your friends, it is possible. Our hostel has rooms for 1 or 2 persons with single beds.
Do not hesitate to contact us to give you better advice, we will be happy to assist you in our hostel in Cabárceno, we have the best disposition and we are sure you will love your stay.